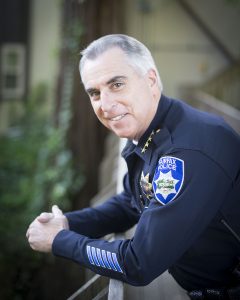 Chief's Message
The Fairfax Police Department has been serving the Community since 1925 and prides itself on bringing the highest degree of quality service to its citizens. I am very proud of the professional staff of the Fairfax Police Department and it is an honor for each and every one of us to serve the community of Fairfax.
The Town of Fairfax is a very special place for me.  My great grandparents had summer homes in Fairfax in the 1930's, eventually moving here from San Francisco in the early 1940's.  They maintained residences in Fairfax through the 1960's.  My father was a Police Officer in  Fairfax in the 1960's.  After working for the San Rafael and Oakland Police departments I came to the Fairfax Police Department in April of 2000.  I have served this community through a variety of operational and support service assignments in those years and was appointed as your Police Chief in 2010.  Currently in my 38 year in Law Enforcement, I have found my experiences and assignments in Fairfax the most rewarding, having created lasting relationships in the community and within the department, which I cherish and appreciate.
As the Fairfax Police Chief, providing policing services that reflect the values of the Town and help improve the overall quality of life for those who live, work, and visit Fairfax is my priority.  I believe in a unbiased, balanced and neutral approach to policing our town.  "Spirit of the Law" policing is always preferred to "Letter of the Law" policing in my opinion and I promote this belief to our fine police staff.
The Fairfax Police Department is dedicated to providing top notch professional and efficient service to this community.  We employ 11 full-time Police Officers, 1 Reserve Police Officer, 4 full time Police Dispatchers, 1 Police Services Technician, 3 part time Police Dispatchers and 2 part time Police Cadets. We provide the Town with full service policing, including our own state of the art 911 police dispatch center (1 of only 4 in Marin County). In addition, we provide 911 Call taking and Police Dispatching to the Communities of Ross and the Marin Community College District.  As resources and financial challenges may arise, values, such as, ethics, honesty, dedication, commitment, teamwork and accountability will always be the strong foundation of our organization.   I believe in building upon these values and establishing  partnerships within our community built on trust.
Our office is located in the downtown area of Fairfax and is the only Police Station/Lobby that is open to the public 24 hours a day, 7 days a week staffed by a Police Dispatcher.
As employees of the Fairfax Police Department, we work hard to provide un-paralleled law enforcement services to our community and to maintain a harmonious relationship with our citizens, businesses, visitors, as well as our public and private schools, to help ensure that our community continues to enjoy an excellent quality of life.
As your Police Chief, I believe that effective policing involves the entire community, united in a team effort. Every one of you is an integral part of our team. We always welcome your suggestions and comments.  Together with the women and men of the Fairfax Police Department, I would like to thank you for your continued support.
Sincerely,
Christopher Morin
Chief of Police