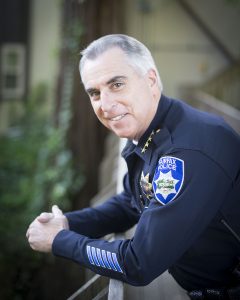 SPECIAL MESSAGE FROM THE CHIEF
September 14th, 2020
To the Fairfax Community,
As many in our community have heard I will be retiring on December 16th, 2020.   I will be working all the way up to that date.  
I want to thank our entire community for the overwhelming support of me and our unique police force for the 20 years I have worked here and the past 10 years as Police Chief.  In my 40 years in Law Enforcement, I can honestly say that working for the Fairfax Police Department for the past 20 years has been the most rewarding of all those years.  I appreciate all of you, those that have and continue to support us and even those that may not.  
I have been informed of a post on Nextdoor about my retirement and the wonderful comments attributed to me by many of you.  While I am humbled and appreciate those comments, I am always mindful that I am only as good as my employees.  It is those employees who go out everyday, doing the work which in turn makes me look good.  Any of my success is because of them.
Fairfax is a unique community and in turn so is the Fairfax Police Department.  I took over a very well-run police department from Chief Ken Hughes 10-years ago.  Being an internally promoted Police Chief, as was Chief Ken Hughes, I found it easy to continue on with a path of policing that was working for our Town.  I made changes and improvements where needed, not simply to just make change.  
I am hopeful that my replacement will also be promoted from within.  You all know Lieutenant Rico Tabaranza.  He has worked for Fairfax for 10-years and has been my right-hand man for the past 5 years.  He understands this community.  He recognizes what the community expects from its own local police force and the correct manner of policing our community requires and expects.  I am hopeful that he, if offered the promotion, will take it and lead us going forward.  I am quite certain that he, like me 10-years ago, can bring new and fresh ideas to the Police Department and Town.
Again, I want to thank you all for your support of me and your local Police Force.  I will still be residing in the area and will see you all around town after my retirement.  
Christopher Morin, Chief of Police