Ages 4-10 (limit of 10 children with 3 CIT's)
Week of July 24
Monday – Friday from 9am – 1pm  * bring your own lunch 
Location: Fairfax Pavilion– we will use indoor and outdoor spaces around the facility, Peri Park, Redwood Grove 
Cost:  $300
Join us for a camp made specially for kids who are enthusiastic about learning Spanish. In this fun Spanish camp, we are passionate about sharing the Spanish language and Latin-American culture to give children the superpower of a second language, and to plant seeds for a life of fruitful and respectful cross-cultural engagement. There will be games, songs, adventures and all kinds of art as we learn animals, colors, traditional crafts and much more...all with lots of Spanish! We will experiment with dancing to various Latin-American rhythm.  For beginners and intermediate level speakers.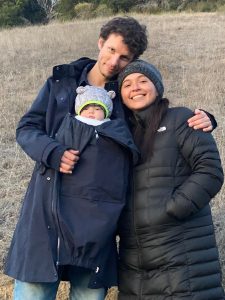 James and Aura live together with their son and cat in the San Geronimo Valley and are happy to be leading Camp Fairfax again this summer. They describe their unique approach to children's activities simply as "good fun stuff" and are guided by years of dedicated experience with children and youth of all ages.
James has studied philosophy, child development and education, music and dance. Aura has studied child psychology, contemporary dance, art education, and transformational coaching. They are both bilingual (English-Spanish) and between them, their experience includes teaching dance and other arts, leading summer camps and after school activities, academic tutoring, nonprofit leadership, and everything kid-related in between. You can learn more about them and their custom birthday parties, camps and pods, homeschool enrichment, and after school classes in dance, woodworking, Spanish and more at www.goodfunstuff.org.