You can now donate to FOSC online!  Press the donate button below and you will ensure that FOSC will have funds available to preserve and acquire open space in Fairfax!
You can also donate by check by sending to (please write on the check "Fairfax Open Space Committee"):
Town of Fairfax, Fairfax Open Space Committee, 142 Bolinas Road, Fairfax, CA 94930.
FOSC is qualified to receive charitable contributions pursuant to Section 170 (a) of the Internal Revenue Code of 1986, as amended.
We appreciate your support and your commitment to preserving open space for our Town.
Wonderfully Wild Marin: A Calendar and Online Fundraiser for Open Space 
Want to help protect local open spaces during these trying times and                                                                  get some amazing artwork as part of the donation thank-you gifts?    Here's how!
The Fairfax Open Space Committee along with The San Anselmo Open Space Committee have been collaborating together to create an informationally rich and stunningly beautiful Calendar for 2022 called Wonderfully Wild Marin. The calendar notes astrological events, holidays from diverse cultures and religions, seasonal, cultural, and historical information about our natural surroundings along with outstanding vistas by talented local photographers.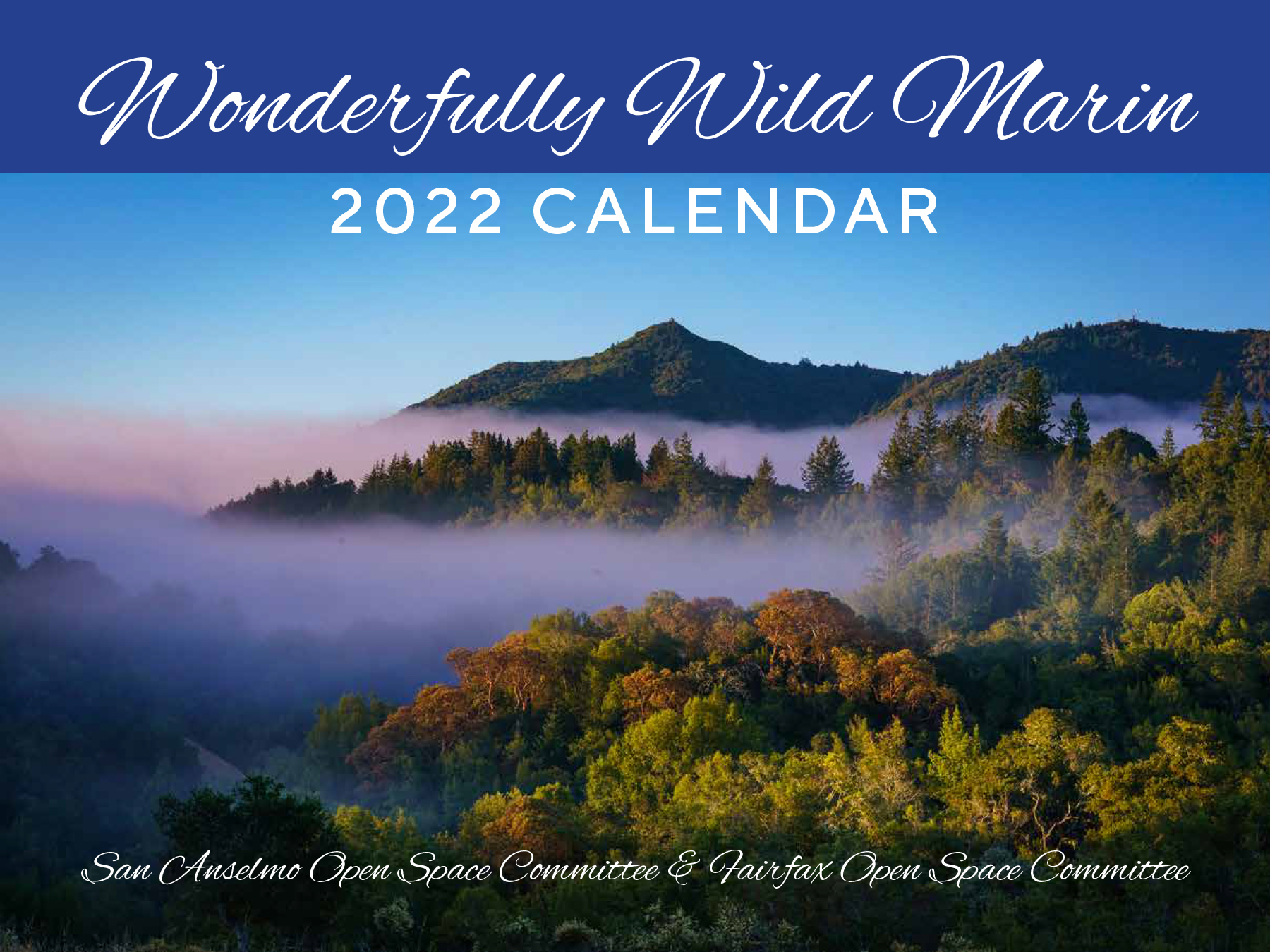 Cover photo by Martha Elizabeth Ture
The calendars are available for a donation of $20 each, and for $25 each if you want them packaged and mailed within the United States with discounts of 10% for five or more and 25% for ten or more.  Contact pascalberandesign@yahoo.com or (415)456-5870 for more information. Order early, quantities are limited.
Additionally, there is a Wonderfully Wild Marin online show with these photographs for sale, open space information and more for at https://www.wonderfullywildmarin.com/ .  Proceeds benefit both artists and open space causes.  All photographs are copyrighted by the artists.
So here's an opportunity to get the holiday shopping done early, benefit local open spaces, and to visualize a brighter and better 2022!  
FOSC Merchandise
Tee Shirt - long sleeve - available in black and white, inquire about available sizes
Price: $25.
All proceeds benefit Fairfax Open Space and the work we do to preserve Open Space.