A severe weather storm is expected to arrive tonight, January 8 and stay through Tuesday, January 10 evening. It will likely bring significant rainfall with 2 – 4" Sunday evening, and another 1 – 2" Monday at lower elevations with 6" or more on Mt Tamalpais.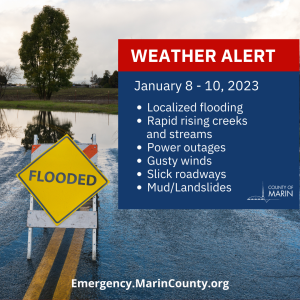 Extended power outages are expected.
Residents should take steps now to prepare for the storm and familiarize themselves with the recommendations to stay safe!
What could happen?
The storm is expected to bring, significant rainfall, rapid rising rivers and creeks, mud/landslides and widespread flooding. Due to extensively saturated soils this will also likely bring branches and trees down causing extended power outages. Storm drains may get clogged with debris. Street flooding is expected in low-lying areas and flood prone locations. Residents should expect these hazards and take steps NOW to prepare
National Weather Service has issued the following advisories:
Wind Advisory in effect from Saturday, January 7 through 1:00pm Sunday January 8
Flood Watch in effect from Saturday, January 7 through 4:00pm Tuesday January 10
Severe Weather Shelter
Marin Health and Human Services will open a Severe Weather Emergency Shelter at 3240 Kerner Blvd. San Rafael from 3:00pm, Monday, January 9, to 6:30 a.m. Tuesday, January 10 for people experiencing homelessness.
Sandbags
Sand, bags, and shovels are available for Fairfax residents at the Skate Park (Pavilion Parking Lot).
During the storm
Avoid unnecessary travel. Strong winds and wet roads make travel risky, and possible flooding may prevent you from returning home. Staying home is the safest option until the storm passes. If it's an emergency, allow emergency responders to come to you.
Use extra caution when driving. If you MUST leave your home, drive carefully: slow down, keep both hands on steering wheel, turn on head lights, allow extra space between vehicles, and watch for downed tree branches, trees, and powerlines.
Stay away from downed power lines. Always assume a fallen power line is live and do not touch it with your hand or other object. Call 9-1-1 immediately to report the fallen line.
Do not walk or drive through standing water. Turn around, do not drown. If it's an emergency, allow emergency responders to come to you.
Avoid the coast and beaches.
Mariners / Houseboats should remain in port. Strong winds and cause hazardous seas which could capsize or damage vessels.
Monitor Emergency.MarinCounty.org for the most up-to-date weather and emergency information.
Stay informed
Remember that Emergency.MarinCounty.org is the go-to resident resource for emergency information throughout this storm event.