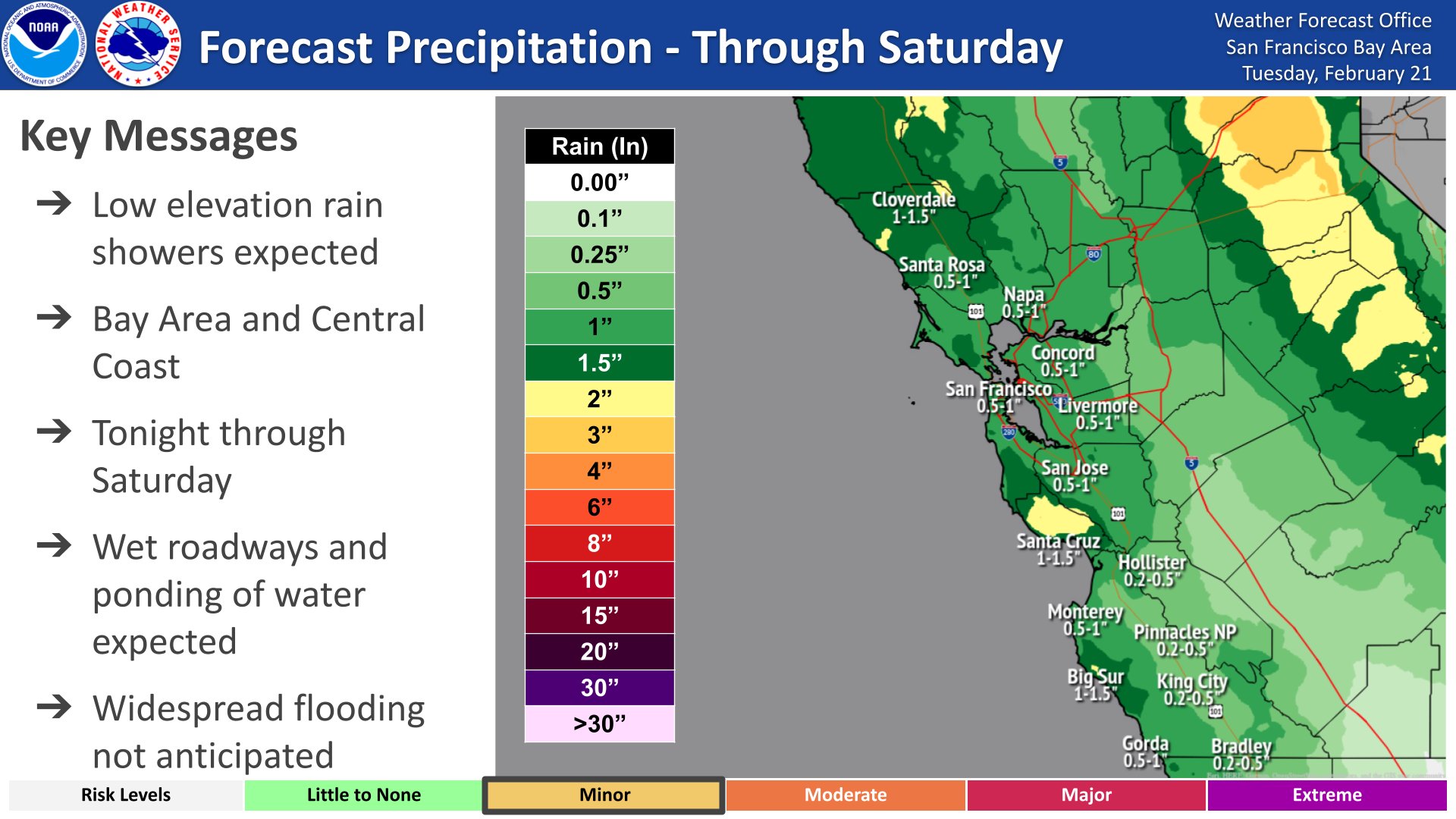 What is happening?
Cold weather is returning to the Bay Area this week with a weather event that may result in gusty winds, rain, and chance of snow at high elevations.
National Weather Service has issued a Wind Advisory in effect until 1:00pm Wednesday.
A Frost Advisory is in effect from 12:00AM Wednesday, February 22 to 9:00AM Wednesday.
A Freeze Watch is in effect from Wednesday evening through Thursday morning.
There is a chance those watch/advisories could be extended as the forecast changes. Overnight lows are expected to be near or slightly below freezing for most of Marin Wednesday through Saturday nights.
What could this mean for Marin residents?
Gusty winds could blow around unsecured objects and blow down tree limbs.
Cold temperatures will impact people and things sensitive to lower temperatures.
Frost and freeze conditions could kill crops, other sensitive vegetation and possibly damage unprotected outdoor plumbing.
Slick roadways.
Power outages may result from strong winds and rain.
What actions can I take to prepare and/or stay safe?
Remember to protect the "4 Ps" from cold:
People: Wear layers, limit time outdoors, and check heaters in advance. Give special attention to older adults and young children, who can lose body heat more quickly than others.
Pets: Bring pets indoors at night and provide them with plenty of warmth.
Plants: Cover or bring in sensitive plants indoors.
Pipes: Wrap exposed outdoor pipes to prevent freezing.
Steps to take now
Secure outdoor objects that could be blown over by wind (e.g, patio furniture, sports equipment, trash cans, pop-up canopies)
Rake leaves and other yard debris and place in green bin (to keep out of gutters and storm drains)
Make sure your emergency kit is up-to-date: have a flashlight, radio and spare batteries handy if the power goes out.
Mariners / Houseboat occupants should secure vessel for severe wind and seas.
Sign up to receive AlertMarin emergency calls, text message or email alerts.
Visit Emergency.MarinCounty.org for additional resources for preparing for a storm.
During the storm
Use extra caution when driving. If you MUST leave your home, drive carefully: slow down, keep both hands on steering wheel, turn on head lights, allow extra space between vehicles, and watch for downed tree branches, trees, and powerlines.  Allow extra time in case of detours away from flooded roadways.
Do not walk or drive around barricades or through standing water. Turn around, do not drown. If it's an emergency, allow emergency responders to come to you.
Stay away from downed power lines. Always assume a fallen power line is live and do not touch it with your hand or other object. Call 9-1-1 immediately to report the fallen line.
Mariners / Houseboats should remain in port. Strong winds and cause hazardous seas which could capsize or damage vessels.
Monitor Emergency.MarinCounty.org for the most up-to-date weather and emergency information.
Emergency shelter
Considering forecast temperatures, Marin Health and Human Services will open its Severe Weather Emergency Shelter Wednesday, Thursday and Friday nights. More information at MarinHHS.org/emergency-information