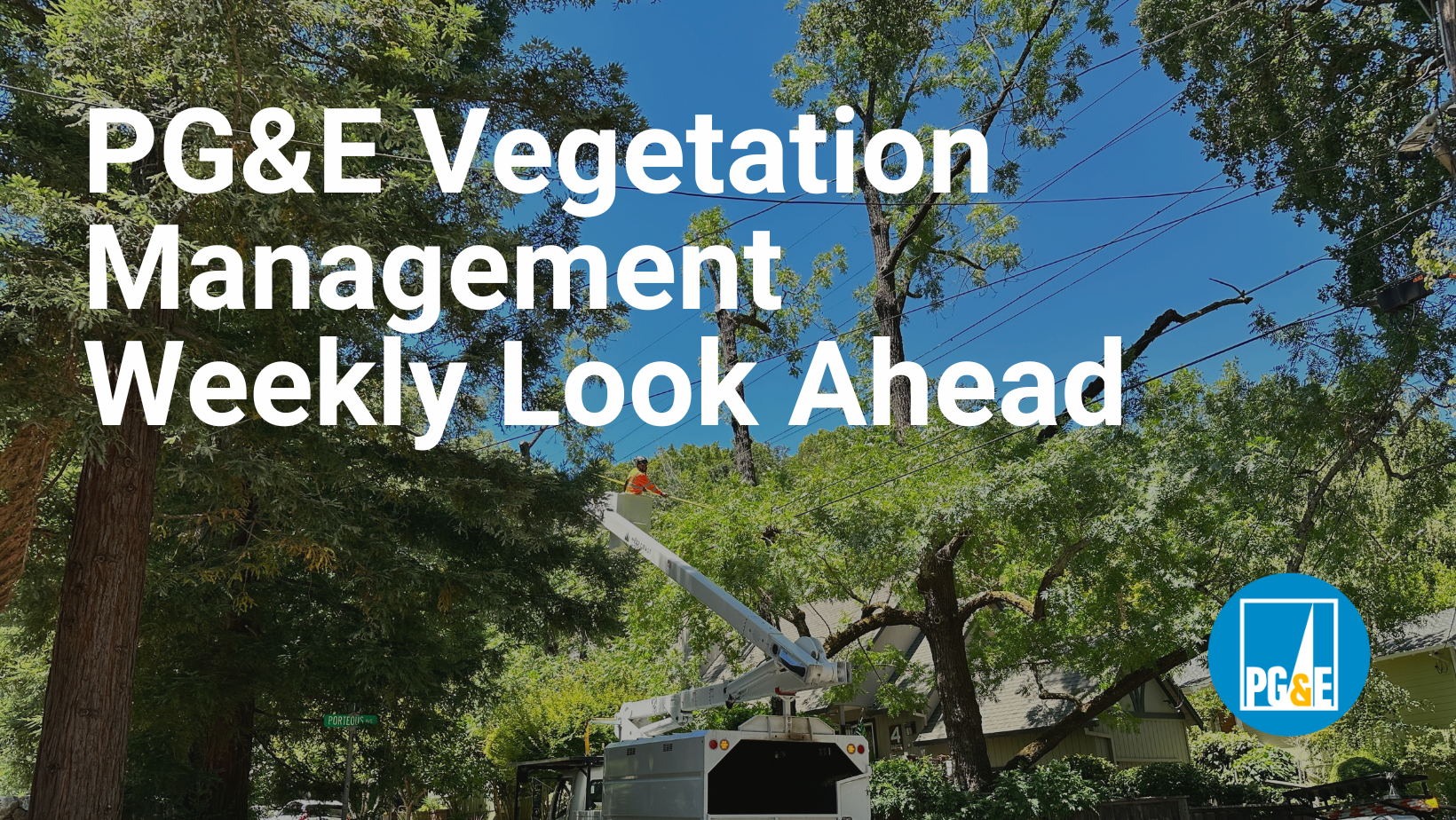 PG&E will be performing vegetation management at the following locations in Fairfax next week, October 16 – October 21.
Since the beginning of 2023, PG&E has:
Completed work on over 500 trees.
Additional inspections will take place on approximately 700 trees and work will be performed as needed.
View PG&E's full slide deck on vegetation management. You can also learn more about this program by visiting PG&E's managing trees and plants site.
Please contact PG&E with any questions or concerns at treesafety@pge.com or 1-877-295-4949.
| | | |
| --- | --- | --- |
| Fairfax locations | Trims | Removals |
| Arroyo Rd. 0-100 Block | 1 | 0 |
| Barker Ave. 0-100 Block | 1 | 1 |
| Bolinas Rd. 500-600 Block | 1 | 0 |
| Bolinas Rd. 600-700 Block | 2 | 0 |
| Bolinas Rd. 700-800 Block | 11 | 0 |
| Bolinas Rd. 800-900 Block | 4 | 0 |
| Bosque Ave. 0-100 Block | 8 | 0 |
| Bothin Road 100-200 Block | 2 | 1 |
| Cascade Dr. 400-500 Block | 1 | 0 |
| Cascade Dr. 600-700 Block | 3 | 0 |
| Creek Rd. 0-100 Block | 1 | 0 |
| Cypress Dr. 0-100 Block | 1 | 0 |
| Cypress Dr. 300-400 Block | 1 | 0 |
| Forrest Ave 300-400 Block | 1 | 1 |
| Forrest Ave. 300-400 Block | 3 | 0 |
| Forrest Terrace 0-100 Block | 5 | 0 |
| Frustuck Ave 100-200 Block | 1 | 0 |
| Frustuck Ave. 0-100 Block | 1 | 0 |
| Geary Ave. 0-100 Block | 1 | 0 |
| Hickory Rd. 0-100 Block | 1 | 0 |
| Holly Rd. 0-100 Block | 1 | 1 |
| Laurel Dr. 0-100 Block | 2 | 0 |
| Madrone Rd. 100-200 Block | 1 | 0 |
| Muriel Place Ln. 0-100 Block | 2 | 0 |
| Oak Manor Dr. 100-200 Block | 1 | 0 |
| Park Lane 0-100 Block | 2 | 0 |
| Park Road 0-100 Block | 1 | 0 |
| Pine Dr. 100-200 Block | 1 | 0 |
| Pine Rd. 100-200 Block | 1 | 0 |
| Porteous Ave. 100-200 Block | 1 | 0 |
| Redwood Road. 0-100 Block | 2 | 0 |
| Redwood Road. 100-200 Block | 2 | 0 |
| Ridge Road. 0-100 Block | 1 | 0 |
| Ridge Road. 100-200 Block | 1 | 0 |
| Scenic Rd. 0-100 Block | 1 | 0 |
| Scenic Rd. 100-200 Block | 2 | 1 |
| Scenic Rd. 200-300 Block | 2 | 1 |
| Scenic Rd. 300-400 Block | 1 | 0 |
| Scenic Rd. 400-500 Block | 3 | 0 |
| Sequoia 0-100 Block | 1 | 0 |
| Sequoia Rd. 0-100 Block | 5 | 0 |
| Sky Oaks Rd. 0-100 Block | 3 | 0 |
| Sonoma St. 0-100 Block | 1 | 0 |
| Spruce Road 0-100 Block | 7 | 0 |
| Tamalpais Rd. 0-100 Block | 1 | 0 |
| Tamalpais Rd. 100-200 Block | 2 | 0 |
| Tamalpais Rd. 200-300 Block | 1 | 0 |
| Tamalpais Rd. 300-400 Block | 1 | 0 |
| Wood Ln. 100-200 Block | 5 | 0 |
| Woodland Rd. 0-100 Block | 1 | 0 |
| Wrenden Ave. 0-100 Block | 1 | 0 |