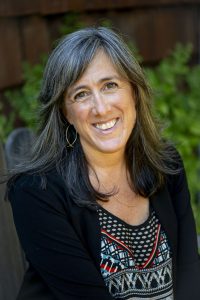 Stephanie Hellman was born in San Francisco and raised in Marin. After graduating from Redwood High School, Stephanie attended UC San Diego where she met her future husband, Ted. They chose Fairfax to call home, seeing it as an affordable, peaceful and idyllic community in which to start a family.
Stephanie embarked on a career in banking, spending more than two decades at Fortune 100 companies leading large cross-channel initiatives in marketing, product, and enterprise program management. Her mindfulness practice of 17 years helped her lead with authenticity and compassion, make thoughtful business decisions supported by inclusivity and collaboration, and trust. A demonstrated 'driver of results' Stephanie pivoted in 2017 with a desire to do meaningful work outside the bounds of private sector which led her to work with a non-profit dedicated to raising awareness of water quality across the globe. In 2014, she traveled to India and taught underprivileged children about the importance of handwashing in order to stave off diseases that cause thousands of preventable deaths each year.
For the past several years Stephanie has sought out opportunities to use her 20+ years of leadership experience to build Fairfax into the best community it can be. She's immersed herself in community, championing local issues like public education funding, racial equity and open space preservation. She's invested herself in raising her three children to be empathetic and aware citizens. Stephanie was elected to town council in 2019, served as Mayor in 2021, and re-elected in 2022 to a 4 year term. She is proud to serve on many local boards including as Board President of Ross Valley Fire Dept.
Stephanie can be found hiking all over Fairfax open space, Yolanda and Phoenix Lake trails with her dog. She also enjoys music festivals and camping with friends and family.