Transportation Authority of Marin (TAM)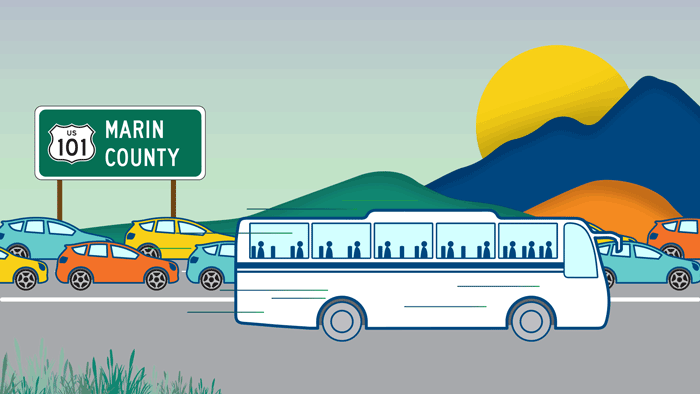 Kicks-off Part-time Transit Lane Study
Buses on Shoulders Could Help Reduce Congestion
The Transportation Authority of Marin (TAM) has kicked-off a study of the feasibility and potential benefits of allowing buses to bypass heavy traffic on the US 101 by using the existing shoulder between Atherton Avenue/San Marin Drive in Novato and Mission Avenue in San Rafael. When buses can bypass congestion, transit (and sometimes even private vehicle) commute times shorten, making the bus a more reliable choice for some commuters.
The part-time transit lane project will help determine where the right shoulder of US 101 can function as a transit-only lane only during heavy traffic. Buses would only use the shoulder when freeway travel speeds drop below 35 miles per hour, and bus maximum speed on the shoulder would be 35 miles per hour.
Share Your Thoughts & Take the Part-time Transit Lane Survey!
TAM believes that community input is vital to shaping a project that responds to the needs of all US 101 travelers. You can submit your ideas, questions, and comments to 
info@tam.ca.gov
.
The survey results will inform recommendations for future part-time transit lane service. TAM will be collecting survey responses through Friday, November 20, 2020.