The applicant, Timberstone 4038T LLC, via managing partner Marshal Rothman, is proposing the Marinda Heights subdivision to divide what is known as the "Wall Property" into ten lots plus an open space parcel.  The Vesting Tentative Map would subdivide the 100.5-acre existing legal parcel into nine 10+ acre single-family residential parcels, one 1.36-acre single-family residential parcel, and an 8.3-acre public trail/park parcel. More information can be found Town's website:
https://www.townoffairfax.org/marinda-heights/ and also:
https://www.fairfaxbuildingplanning.org/   
RECENT CHANGES
Initially, the Project was initially deemed incomplete in Spring 2018 but changes were made and it was re-submitted in September.  Significant changes are:
Lot 1 was relocated to just above Lot 6 due to problems with double zoning for its original location.There is a new drive to it.  It now sits above Oak Manor School.

The fire road leading up to the ridge from the end of Marinda Drive is proposed to be a "drop and fill" which includes some excavating and filling because the road currently exceeds maximum slope.

The Water Tank has being moved

from the south side of the end of the drive, just below the 'spirit circle' to be up toward the 'rear' / north part in the circle.
The Cross Trail has been moved from the Perimeter; it is now a mid-elevation trail in two parts that cuts from ridge to the other.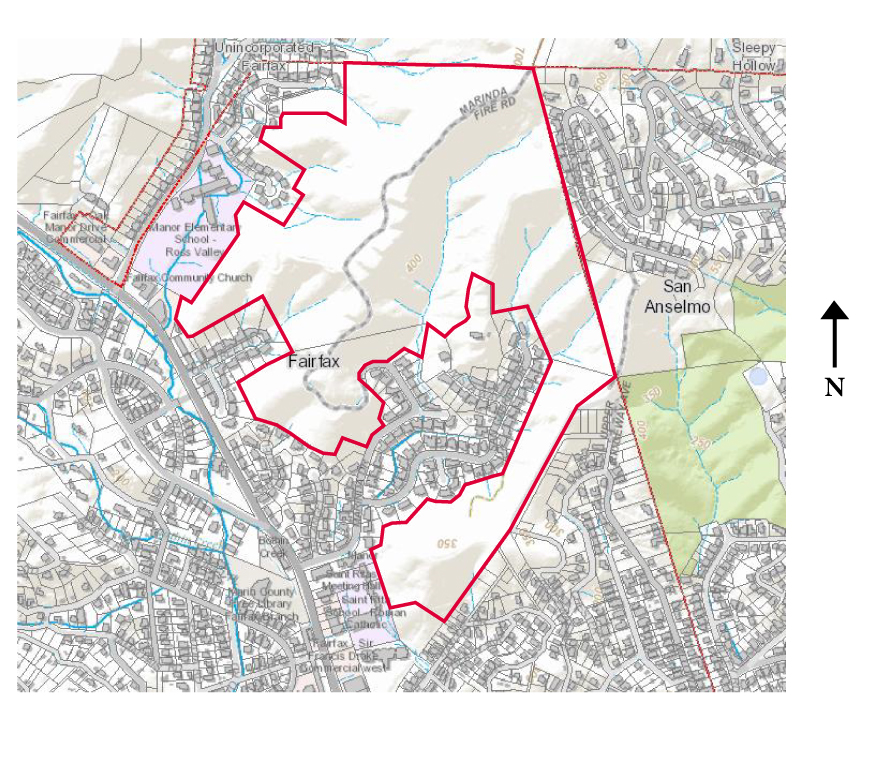 FOSC REVIEW AND COMMENTARY
The Committee reviewed and drafted comments on the Development in November 2018 in the form of a memorandum.  The opening commentary provides insight into why we did this, how we included public expressions, and what issues we addressed.
The memorandum reviewed the Development and provide the Committee's concerns and conclusions based on the information gathering it did over the past year or so.  The framework for the memorandum mirrored the four primary "Goals" of the Open Space Element of the General Plan and the underlying policies and objectives.
The four Goals are:
Goal 1: Protect and preserve open space lands and native biotic resources within the Fairfax Planning Area;
Goal 2: Manage, enhance, and restore open space to ensure long-term vitality and viability;
Goal 3: Preserve the sensory qualities of open space for recreational, cultural, educational, and spiritual experiences.
Goal 4: Balance the interests of public health and safety with the preservation of open space."
For a full version of the memorandum from FOSC to the town please use this link:
(link forthcoming)
If you are interested in following the review process of this project we encourage you to sign up with the Town of Fairfax to receive updates at this bottom of this page: https://www.townoffairfax.org/departments/planning-building/
And you can find out about upcoming public meetings here:https://www.townoffairfax.org/departments/planning-building/  
https://www.townoffairfax.org/departments/meetings-agendas/