Dr. Wall, a retired prominent heart surgeon, purchased the approximate 99 acres that compose this meandering property in the 1960s.  Through the years, the property was rezoned a number of times.  Current zoning allows for the development of one dwelling unit per ten acres, or a potential of nine dwelling units.  Unlike nearby parcels, there have been very few proposals for improvements to the property.  In the past 20 years, one development proposal for the property was been a tower for a cellular company.  This project was never permitted, and thus was not developed.
The property was prioritized as an Open Space Priority by the Town Council in 2007 and is memorialized as such in the General Plan.  In the subsequent years, Dr. Wall suffered a severe medical illness and passed away.  The property was sold to a private party as a result of a court-ordered sale. Attached (see links) are a number of documents that provide a chronology of the Town's interest in the property as Open Space, partial listings of birds and flora found on the property by prominent biologists, and other materials.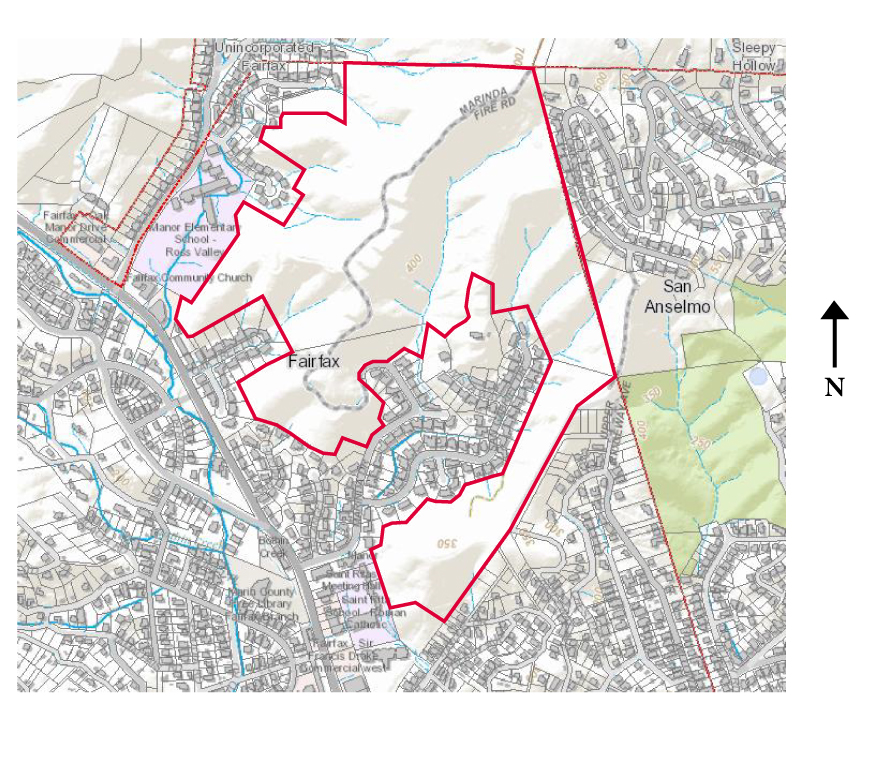 FOSC REVIEW AND COMMENTARY
The Committee reviewed and drafted comments on the Proposed Development in November 2018 in the form of a memorandum.  The opening commentary provides insight into why we did this, how we included public expressions, and what issues we addressed.
The memorandum reviewed the Development and provide the Committee's concerns and conclusions based on the information gathering it did over the past year or so.  The framework for the memorandum mirrored the four primary "Goals" of the Open Space Element of the General Plan and the underlying policies and objectives.
The four Goals are:
Goal 1: Protect and preserve open space lands and native biotic resources within the Fairfax Planning Area;
Goal 2: Manage, enhance, and restore open space to ensure long-term vitality and viability;
Goal 3: Preserve the sensory qualities of open space for recreational, cultural, educational, and spiritual experiences.
Goal 4: Balance the interests of public health and safety with the preservation of open space.